Welcome to
Yambuk Lake Caravan Park
An excellent location for families, with abundant fishing available in the lake or nearby surf beaches.
Make A Booking
Experience Mother Nature at her finest…
Yambuk is a relaxed rural area just a short drive from the historic township of Port Fairy. This peaceful park in an idyllic location has all that you require for a relaxing stay whilst reconnecting with nature. Nestled beside the tranquil Yambuk Lake, you can pitch your tent or pull up your caravan and sit back and enjoy the serenity. The park is a prime location for families, with excellent fishing available in the lake or nearby surf beaches.
When visiting Yambuk, no stay is complete without experiencing one of the Great South region's largest slides. Climb to the top of the famous Yambuk slide and zoom down to the bottom – this is fun for the whole family.
Yambuk also boasts a general store and a pub to complete your stay. Other activities include walking, sightseeing and day trips to several regional tourist attractions, including Port Fairy, Budj Bim indigenous history and the Codrington Wind Farm.
Packing for Holidays?
​
Our beautiful Yambuk Lake Caravan Park is open… and we're excited to welcome you on your next visit!
Packing for a holiday? There are a few extra things to squeeze into your case this time:
– face masks
– hand sanitiser
– disinfectant wipes
– 1.5m ruler
Well maybe best judgement applies to the last item…
Happy COVIDSafe travels.
To learn more visit the Coronavirus Victorian Government website.
Hope to get away on the Holidays?
​
Thank you for considering Yambuk Lake Caravan Park, please note that both our powered and unpowered sites have limited availability from the 26th December (Boxing Day) until the 14th January 2021.
We recommend all booking requests be processed as soon as possible, or alternative dates be considered, to avoid disappointment.
Please contact Liz and Alf on 0419 006 201 or make your booking through this website.
We look forward to welcoming you to Yambuk Lake Caravan Park.
Escape, explore and experience… pack your bags!
​
Congratulations Melbourne you have made it through and now it's time to escape, explore and experience your regional backyard!
We welcome back all our Melbourne friends and we can't wait to see you. Come and explore our wide open spaces, beautiful fresh air and unique hidden treasures…
Our Gardens, Southcombe, Yambuk Lake, Killarney Beach, Koroit-Tower Hill and Mortlake Caravan Parks are all now open and looking beautiful ready for visitors.
Our friendly group of NEW Managers from our Yambuk Lake, Killarney Beach, Koroit-Tower Hill and Mortlake Caravan Parks (pictured)… look forward to meeting you, providing excellent customer service and park facilities plus an extraordinary experience!
Our trusty and long serving Park Managers from our Gardens and Southcombe Caravan Parks in Port Fairy, will give you that big friendly wave in person!
Pack your bags… we look forward to seeing you soon!
For our COVIDSafe measures visit our guest safety page.
Park Specials
Check out what amazing deals you can pick up for your next holiday to Yambuk.
Explore what we have to offer…
Enjoy our powered and unpowered sites that are open year round for campers in tents, caravans or motor homes.
This regional park has facilities that will make your holiday enjoyable and relaxing. From camp kitchens to kids' playground it has it all.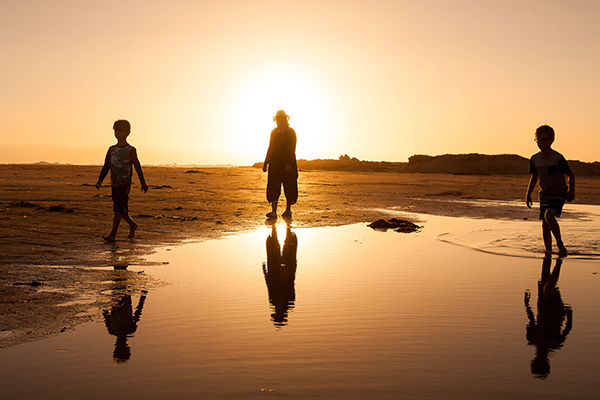 From fishing in the Yambuk lake or nearby surf beach to the largest slides on the Great South Coast there's plenty to do in Yambuk for young and old.
Holiday with your best friend.
What would make a great holiday event better? Bring your "man's best friend" along with you of course.
There's no need to organise a dog sitter for your next trip away as you can bring him or her along with you. Dogs are welcome at Yambuk Caravan Park as it is a dog-friendly camping reserve.
For more information, please contact our office.